Aqua English in the Tourism Qld Ad Campaign - We need multicultural actors and actresses!
Tue, 15 May 12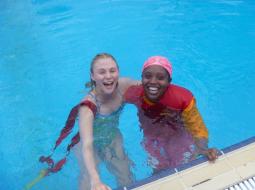 The Aqua English Project will be featured in Tourism Queensland's upcoming ad campaign. Filming will commence on the Gold Coast on the 8th June 2012 at The Gold Coast Aquatic Centre and Main Beach.
We need a Multicultural Representation of participants, and are asking our current swimmers to consider becoming stars. We would also like you to recruit your friends and family.
Please email or phone/SMS us if you would like to be part of this wonderful opportunity. 0406063737
Tags: The Aqua English Project Will Be Featured In Tourism Queensland\'s Upcoming Ad Campaign. Filming Will Commence On The Gold Coast On The 8th June 2012 At The Gold Coast Aquatic Centre And Main Beach. We Need A Multicultural Representation Of Participants, And Are Asking Our Current Swimmers To Consider Becoming Stars. We Would Also Like You To Recruit Your Friends And Family. Please Email Or Phone/SMS Us If You Would Like To Be Part Of This Wonderful Opportunity. 0406063737