Research
Aqua English has identified a need for more research in Multiculturalism and aquatic education. Past qualitative research projects include cultural differences and implications for teaching (2005), and critical discourse analysis of Australian teacher's experiences in China (2006).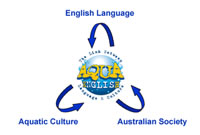 Current research for 2007 includes Muslim women and the need for aquatic experiences in Australia. With the recent number of drownings that have occurred on the Gold Coast and the rest of Australia, the need has never been more timely for research and development of cultural initiatives.
Stay tuned for our latest research.